In the enchanting world of weddings, bridesmaids play an integral role in supporting the bride and adding a touch of charm to the entire celebration. As these cherished members of the bridal party stand by the bride's side, their presence is not only symbolic but also visual, making their appearance an essential part of the grand affair. Among the myriad of elements that contribute to the bridesmaids' radiance, their hairstyles take center stage in enhancing the overall bridal look with elegance and grace. Get ready to be inspired as we unveil a captivating collection of hairstyles that will make bridesmaids shine, ensuring a picture-perfect bridal party that epitomizes refined sophistication and beauty.
Factors to Consider When Choosing Bridesmaids' Hairstyles
When it comes to the momentous occasion of a wedding, every detail counts, and choosing the perfect bridesmaids' hairstyles is no exception. These delightful companions deserve to look and feel their best as they stand beside the bride, radiating elegance and charm. To ensure a harmonious and stunning bridal party, several essential factors should be considered when selecting bridesmaids' hairstyles.
Bridal Hairstyle and Theme:
Matching or Complementing the Bridal Hairstyle: The bridesmaids' hairstyles should harmonize with the bride's hairstyle without overshadowing it. If the bride opts for an elaborate updo, consider simpler updos or half-up, half-down styles for the bridesmaids. For a bride with loose waves or romantic curls, bridesmaids could opt for similar styles to create a cohesive look.
Coordinating with the Wedding Theme and Aesthetics: The wedding theme and overall aesthetics should be taken into account when choosing bridesmaids' hairstyles. For a classic and formal affair, timeless updos might be the ideal choice, while a bohemian or rustic-themed wedding could call for ethereal braided hairstyles.

Bridesmaids' Dress and Face Shape:
Considering the Style and Color of Bridesmaids' Dresses: The bridesmaids' hairstyles should complement the style and neckline of their dresses. For strapless gowns, elegant updos or cascading curls work wonders, while high necklines can be paired with chic ponytails or half-up hairstyles.
Choosing Hairstyles that Flatter Different Face Shapes: Different face shapes benefit from specific hairstyles. Round faces can be elongated with high updos, while soft waves suit heart-shaped faces. Tailoring the hairstyles to flatter each bridesmaid's face shape will ensure they feel confident and beautiful.
Practicality and Comfort:
Opting for Hairstyles that Last Throughout the Event: The chosen hairstyles should withstand the day's festivities, including hugs, dancing, and even potential weather challenges. Opt for styles with secure pins and hairspray to ensure the bridesmaids look picture-perfect throughout the entire event.
Ensuring Comfort and Ease of Movement for Bridesmaids: Comfort is key, so consider hairstyles that allow for ease of movement and don't require constant readjustment. Avoid overly tight hairstyles that might cause discomfort over time.
DIY Bridesmaids' Hairstyles and Professional Styling Tips
Step-by-step guide for easy DIY hairstyles:
Crafting beautiful bridesmaids' hairstyles doesn't always require a professional touch. With a little creativity and some helpful guidance, bridesmaids can achieve stunning looks on their own. For a chic and effortless updo, start by curling the hair to add texture, then gather it into a low bun and secure with bobby pins. Those with longer locks can opt for a romantic braided crown, weaving a loose braid around the head and pinning it in place. For bridesmaids with shorter hair, consider elegant waves achieved with a curling wand, adding a touch of hairspray for hold. These simple step-by-step DIY hairstyles ensure that bridesmaids radiate grace and charm with their self-created looks.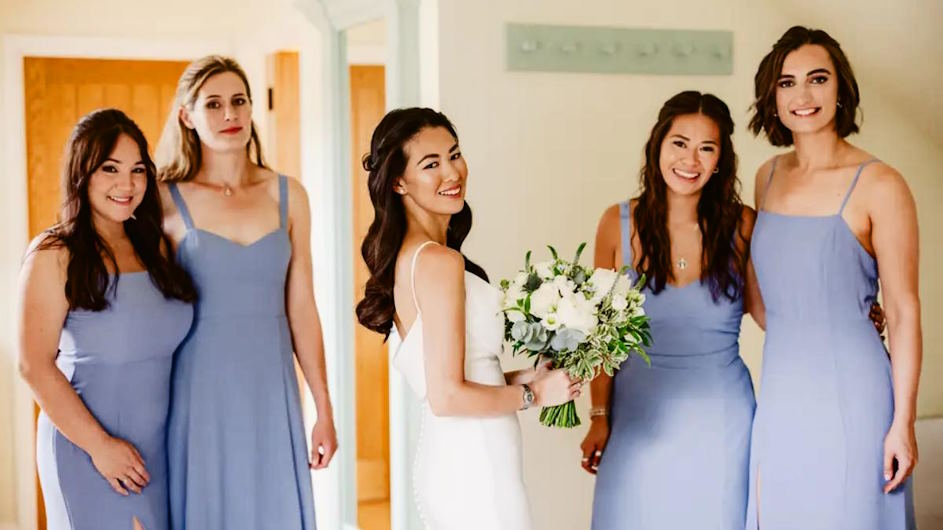 Recommended hair products and tools for styling:
To achieve flawless bridesmaids' hairstyles, having the right hair products and tools is crucial. High-quality hairspray helps maintain the style throughout the wedding day, while texturizing spray adds volume and dimension. Bobby pins and hair elastics are indispensable for securing updos and braids securely. A curling wand or flat iron can be used to create loose waves or sleek curls. Don't forget heat protectant spray to shield the hair from damage when using hot styling tools. Having these essential products and tools on hand ensures that bridesmaids can achieve professional-looking hairstyles even without a stylist.
Maintaining Bridesmaids' Hairstyles Throughout the Wedding
| | |
| --- | --- |
| Aspect | Tips |
| Using Hair Sprays and Setting Products | Choose a long-lasting, strong-hold hairspray to keep hairstyles intact throughout the day. Prior to styling, apply a heat protectant spray to shield hair from heat damage when using styling tools. To control frizz and add shine, apply a light finishing serum or oil. |
| Carrying an Emergency Hair Kit | Pack a small emergency hair kit with essentials such as bobby pins, hair elastics, and a mini hairspray. Include a travel-sized comb or brush for quick touch-ups. This kit will come to the rescue for any unexpected mishaps or wind-blown hair. Consider assigning one bridesmaid to carry the kit for easy access. |
| Quick Touch-Up Tips | After the ceremony, ask a bridesmaid or a trusted friend to be on "hair duty" during the reception. This person can discreetly check on hairstyles and perform quick touch-ups if needed. For updos, gently secure any loose strands with bobby pins and refresh curls with a curling wand. For hairstyles with hair accessories, ensure they remain in place and reposition them if necessary. Remind bridesmaids not to over-touch their hair to avoid excess oil and frizz. A simple touch-up can go a long way in maintaining the polished and elegant bridesmaids' look. |