Your wedding day is one of the most cherished moments of your life, and every detail matters in creating the perfect bridal look. Among the array of decisions to make, choosing the right lip color may seem like a minor concern, but it can have a significant impact on your overall appearance. A well-selected lip shade can enhance your smile, tie together your makeup, and elevate your bridal style to new heights.
Harmonizing with Your Bridal Makeup
Considering the Overall Makeup Theme and Style:
Your wedding day makeup should reflect your personal style and the overall theme of the ceremony. Before selecting the perfect lip color, take some time to decide on the makeup look you want to achieve. Are you going for a natural and ethereal vibe, or do you envision a bold and glamorous appearance? Understanding the mood and style of your makeup will guide you in choosing a lip color that harmonizes with the overall look. For a romantic and whimsical wedding, soft pinks and peaches can add a touch of innocence, while a bold red lip can exude confidence and sophistication for a more formal affair.
Complementing the Eye and Cheek Makeup with the Lip Color:
To achieve a cohesive and polished bridal makeup look, it's essential to ensure that your lip color complements your eye and cheek makeup. If you've opted for dramatic eye makeup with smoky shadows or winged eyeliner, consider a more subdued lip shade to balance the overall look. On the other hand, if you've kept your eye makeup minimal, a bolder lip color can be the focal point of your face. Harmonizing the lip color with the blush shade is also crucial; for instance, warm-toned blushes work well with peach or coral lip colors, while cool-toned blushes pair beautifully with rosy or mauve lip shades.
Trendy Lip Colors for Modern Brides
Exploring Current Lip Color Trends for Weddings:
For modern brides looking to add a contemporary flair to their bridal makeup, exploring current lip color trends is a must. Nude lips remain a timeless choice, but more adventurous options are gaining popularity. Rich berry shades can add a touch of romance, while deep plum hues exude sophistication. Modern brides are also embracing bold and vibrant colors like vibrant corals, deep reds, and even shades of tangerine for a pop of excitement. Ombre lips, with a gradient effect, are another trendy choice that adds dimension and interest to your lip look.
Unique Shades and Finishes to Consider:
Step away from conventional choices and consider unique lip shades and finishes to make a statement on your special day. Velvety matte finishes offer a modern twist on classic colors, providing a long-lasting and refined look. Metallic lip colors with a shimmering sheen can add an element of glamour and modernity. Don't shy away from experimenting with unconventional shades like dusty rose, mauve, or terracotta, which can perfectly complement various skin tones and wedding themes.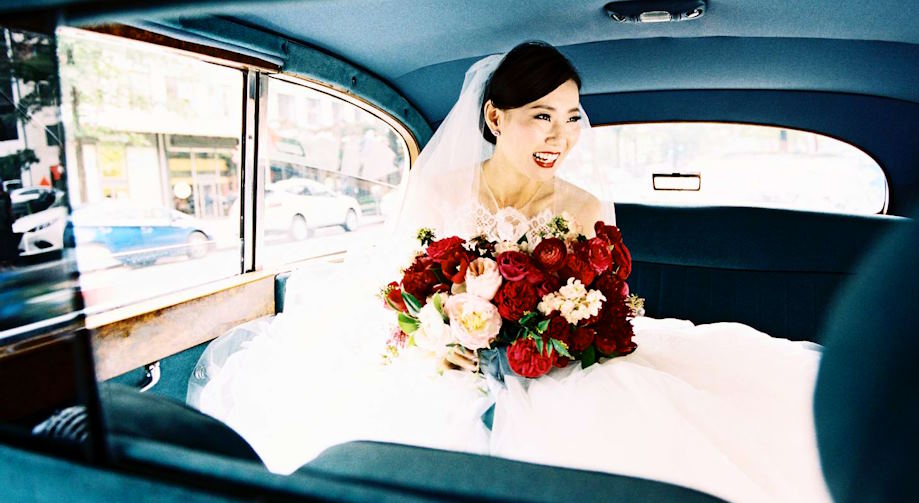 Long-Lasting and Transfer-Proof Lip Options
Importance of Long-Wear Lip Products for the Wedding Day:
Your wedding day is filled with countless moments – from the emotional exchange of vows to the heartfelt toasts – and you want your lip color to stay put through it all. Long-lasting and transfer-proof lip products are essential to ensure that your lips remain vibrant and flawless from the first kiss to the last dance. These specially formulated lip options offer the perfect balance of beauty and functionality, allowing you to enjoy every moment without worrying about constant touch-ups.
Comparing Different Long-Lasting Lip Formulas (Liquid Lipsticks, Stains, etc.):
When choosing a long-lasting lip option, there are various formulas to consider, each offering unique benefits. Liquid lipsticks have gained popularity for their intense pigmentation and budge-proof nature. They dry down to a matte finish and can withstand hours of wear. Lip stains, on the other hand, provide a natural and lightweight color that adheres to the lips for extended periods. Additionally, there are long-wear lip glosses that offer a glossy shine without sacrificing staying power. Exploring these options during makeup trials will help you find the formula that suits your preferences and complements your wedding look.